For Naoshima & Teshima Visitors
Introducing! A retro Japanese ryokan turned into an International inn.
Produced by the creator of Uno Slope House, a popular B&B among international travelers who visit Naoshima/ Teshima, an old-style Japanese accommodation was reborn as Uno Port Inn in March 2016. Just like Uno Slope House, our on-site English speaking staff makes your life easier for the up-to-date information on the art islands , local eats, and tips and beyond.
Convenient Location
Uno Port Inn is located very close to JR Uno Station and the ferry terminal for Naoshima, Teshima,  Inujima (via Teshima) and Shodoshima  -- literally one minute (or less) walk from both the station and the ferry terminal. Could not be closer. The advantages are:
Arrive early in a day to Uno station and drop your luggage off (free of charge) with us in no time, and then quickly take a ferry and spend the rest of the day exploring one of the islands.
Leave your luggage (free of charge) after checking out and go to one of the islands before traveling to your next destination.  You can maximize the time of stationing here.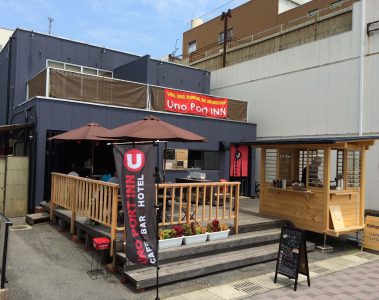 The building Uno Port Inn is housed was originally constructed in the 1980's. We renovated and added a number of new bathrooms upon its new opening in March 2016. But preserved most of the original detail of the rooms - from the low-height door to the series of fusuma sliding doors - because we wanted to have our guests experience a taste of good-old Showa-era, which you see sometimes in Japanese classic movies.
For that, we named each room after renowned filmmakers who lived through the Showa era and showed profound images at that time in their films (with an exception of Alice Guy).   When you go into a room at Uno Port Inn, you may be reminded of those scenes from your favorite Japanese films.
All rooms come with Private Shower & Bathrooms (in an unique way)
Because the old ryokan-building had merely a few shared bathrooms for the entire premises, we have added 12 new private shower/bathrooms reserved for each guest room.
Although a bit cramped, we have fitted a few into the Western style rooms to keep them extra private.
The rest of them were gathered at the end of the hall way on each floor - to preserve the original Japanese tatami rooms' authenticity while ensuring the guests' needs for privacy.
For bath-tub lovers, there's a new hot spring a 5-min walk away. Or the I Love 湯, a public "art" bathhouse on Naoshima.