When a project of Uno Port INN came into reality in 2015, the first thing we needed to make sure was that the new accomodation must offer a good coffee and we wanted to do it in style.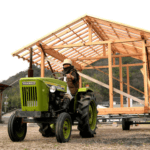 A Tamano native architect Mr. Takahara who had spent for past decades teaching at a number of design schools in Kyoto and Fukuoka, came back to his hometown of Hachihama, Tamano, in 2010.
His unique, avant-gard, and anti-materialistic ideas of "how one should live life independently" inspired the town's culturally-awakened people. His lifetime goal is to live on a fishing boat that goes to whenever he wants until he die. He always wants to move and doesn't want his architecture to be stuck.
Upon coming back to the hometown, he built his own house mostly with waste woods all by himself with a help of his wife. It's got wheels and mobile.
We loved his idea and asked him to draw the one-and-only mobile house for Uno Port INN.
The design he came up with for the espresso stand resembles – a Shinto shrine. It was assembled with hinoki cypresses by Mr. Fujiwara of Fam-Greed with a method of traditional Japanese-style wooden framework.

Uno Port INN is hoping to build more of the Takahara mobile house in different sizes. And move them in and around Uno Port.
Want to have one for yourself? Contact info@unoportinn.com Will have them make one for you.